Flucostat 50 mg № 7
Flucostat 50 mg № 7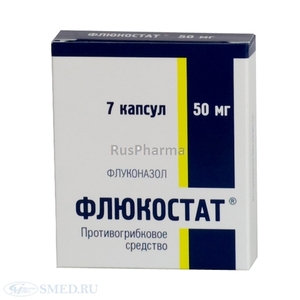 New Post
Other transport services
Courier in Kiev
Pickup
Cash
Non-cash transfer
Privat 24
WebMoney
Flucostat is used to treat a number of different types of fungal and yeast infections such as vaginal thrush (Candida albicans infection), fungal infections of the mouths (oral thrush), throat, food pipe, intestines or other internal fungal or yeast Infections. A vaginal fungal infection is characterized by an increase in vagina, as well as redness, irritation, itching or burning in the vagina / labia area. Flucostat is a fast-acting medicine that is absorbed into the bloodstream. In most cases, the symptoms will be improved within two days of taking it.
Flucostat capsules should be swallowed whole with plenty of liquid. You can also break the capsules and disperse them in a spoonful of applesauce or pudding. This medicine should be taken at approximately the same time each day. If you have been, you must be sure to complete it. If your symptoms are not improved within seven days, consult a doctor.
Unless otherwise prescribed by your doctor, the usual dose for a vaginal fungal infection is:
Women aged 18 and older: one 150-mg capsule.
Other infections may require a different dose.
Flucostat is not suitable for everyone. Do not use this antifungal medicine if:
- You are allergic to Flucostate or to other azole antifungal medicines (e.g. miconazole or itraconazole);
- You are allergic to any of the ingredients in Flucostat capsules;
- You are pregnant;
- You are currently taking terfenadine or cisapride.
Consult a doctor if you have a medical condition such as diabetes, epilepsy, increased kidney function or a liver disease. Flucostat interacts with other medicines, including some soporifics, anti-epileptic drugs and calcium blockers. The doctor will have a list of medicines that you should avoid mixing it with.
In principle, Flucostat does not affect your reaction time. Avoid driving if you do feel dizzy.
Flucostat does not interact with alcohol or food.