Reduksin 15 mg № 60 (Reduce)
Reduksin 15 mg № 60 (Reduce)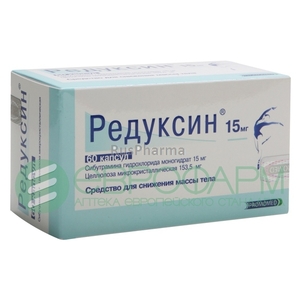 New Post
Other transport services
Courier in Kiev
Pickup
Cash
Non-cash transfer
Privat 24
WebMoney
Sibutramine (usually available as sibutramine hydrochloride monohydrate) is an appetite suppressant that is administered orally for the treatment of obesity.
Dosage and Administration:
15mg Daily in the morning, pre or post meal.
Also known as Reductil, Meridia and Sibutrex. The Sibutramine is one of the best weight reducer in the world. It had been proven to be effective for men and women alike. However, please be cautious while using Sibutramine as it it may counteract with the drug you are using.
Efficacy and safety of weight loss with Reduce (Sibutramine) was proved in clinical studies. Weight loss drug is prescribed to people who are overweight with a BMI of 27 and over 30. Clinically significant weight loss is achieved only if the Reduce slimming capsules are taken in conjunction with diet and regular exercise.
Before using drugs in combination therapy, it is recommended to study Reduce drug interactions.
At the beginning of the obesity treatment Reduce, side effects can show up (headache, nausea, dry mouth, blurred defecation).
Most often Reduce side effects are mild and disappear within a few days. In some cases, you may need to decrease the Reduce daily dose.