Safocid № 12
Safocid № 12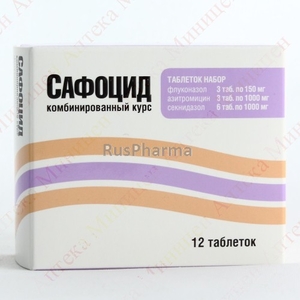 New Post
Other transport services
Courier in Kiev
Pickup
Cash
Non-cash transfer
Privat 24
WebMoney
Indications:
Combined infections of the genitourinary tract, sexually transmitted:
- Gonorrhea;
- Trichomoniasis;
- Chlamydia;
- bacterial vaginosis;
- fungal infections;
- concomitant specific and nonspecific cystitis, urethritis, vulvovaginitis, cervicitis.
Tablets set (Fluconazole, tablets; Azithromycin, coated tablets; Seknidazole, coated tablets).
1. Fluconazole. Round flat cylindrical tablets of pink color with a facet and with a risk. On the break the tablet is pink.
2. Azithromycin. Biconvex tablets capsular shaped, covered with a pink color coating, with a risk. On the fracture, the core of the tablet is white or almost white in color.
3.Secnidazole. The capsule-shaped biconvex tablets coated with a white or almost white coating, with a risk. On the break the tablets are white or almost white in color.
A combination kit containing an antifungal drug, an antibiotic and an antibacterial drug with antiprotozoal activity.
- Fluconazole - an antifungal drug, a derivative of triazole, is a potent selective inhibitor of the synthesis of sterols in a fungal cell. Effective in opportunistic fungal infections, incl. Caused by Candida spp., Cryptococcus neoformans, Microsporum spp., Trichophyton spp. Also shown is the activity of fluconazole on models of endemic mycoses, including infections caused by Blastomyces dermatitidis, Coccidioides immitis and Histoplasma capsulatum.
- Azithromycin is a broad-spectrum antibiotic, a representative of the subgroup of macrolide antibiotics - azalides. When creating high concentrations in the focus of inflammation has a bactericidal effect. It is active against gram-positive cocci: Streptococcus pneumoniae, Streptococcus pyogenes, Streptococcus agalactiae, Streptococcus groups C, F and G, Staphylococcus aureus, Streptococcus viridans; Gram-negative bacteria: Haemophilus influenzae, Moraxella catarrhalis, Bordetella pertussis, Bordetella parapertussis, Legionella pneumophila, Haemophilus ducreyi, Campylobacter jejuni, Neisseria gonorrhoeae and Gardnerella vaginalis; Some anaerobic microorganisms: Bacteroides bivius, Clostridium perfringens, Peptostreptococcus spp., As well as Chlamydia trachomatis, Mycoplasma pneumoniae, Ureaplasma urealyticum, Treponema pallidum, Borrelia burgdorferi. Azithromycin is not active against gram-positive bacteria, resistant to erythromycin.
- Secnidazole is an antimicrobial bactericidal preparation, a synthetic derivative of nitroimidazole. It is active against obligate anaerobic bacteria (sporo- and non-spore forming), causative agents of some protozoal infections: Trichomonas vaginalis, Giardia lamblia, Entamoeba histolytica. Secnidazole is not active against aerobic bacteria. Increases the sensitivity of tumors to irradiation, causes sensitization to ethanol (disulfiram-like action). Interacts with DNA, causes a violation of the spiral structure, rupture of threads, suppression of the synthesis of nucleic acids and cell death.