Tobrex 0,3% 5 ml eye drops
Tobrex 0,3% 5 ml eye drops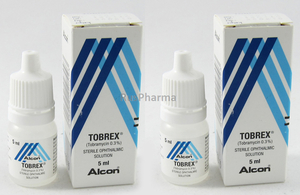 New Post
Other transport services
Courier in Kiev
Pickup
Cash
Non-cash transfer
Privat 24
WebMoney
Tobrex. Eye drops.
Tobramycin 5 ml.
A broad-spectrum antibiotic from the aminoglycoside group.
Indications for use
- Blepharitis.
- Conjunctivitis.
- Keratoconjunctivitis.
- Blepharoconjunctivitis.
- Keratitis.
- Iridocyclitis.
- Prevention of postoperative complications in ophthalmology.
Doses
With a mild infectious process
The drug is instilled in 1-2 drops in the conjunctival sac of the affected eye (or eyes) every 4 hours.
In the case of acute acute infection
The drug is instilled every 30-60 minutes, as the inflammation decreases the frequency of instillations of the drug.