Vilprofen 500 mg № 10
Vilprofen 500 mg № 10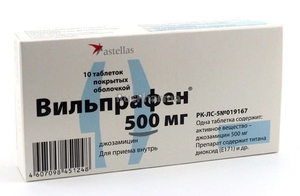 New Post
Other transport services
Courier in Kiev
Pickup
Cash
Non-cash transfer
Privat 24
WebMoney
Josamycin 500 mg
Indications
Acute and chronic infectious-inflammatory diseases caused by microorganisms sensitive to the preparation:
- infections of the upper respiratory tract and ENT organs (including angina, pharyngitis, tonsillitis, paratonzillitis, otitis media, sinusitis, laryngitis);
- diphtheria (in addition to treatment with diphtheria antitoxin)
- scarlet fever (with increased sensitivity to penicillin);
- infections of the lower respiratory tract (including acute bronchitis, exacerbation of chronic bronchitis, pneumonia, including caused by atypical pathogens);
- Whooping cough;
- psittacosis;
- gingivitis and periodontal disease;
- Blepharitis, dacryocystitis;
- infections of the skin and soft tissues (including pyoderma, furunculosis, acne, lymphangitis, lymphadenitis);
- anthrax;
- erysipelas (with increased sensitivity to penicillin);
- venereal lymphogranuloma;
- infections of the urinary tract and genitals (including urethritis, prostatitis, gonorrhea, syphilis) with hypersensitivity to n
Dosage
The recommended daily intake for adults and adolescents over 14 years is 1-2 g in 2-3 doses. The initial recommended dose is 1 g. For common and globular acne, 500 mg 2 is prescribed for the first 2-4 weeks, then 500 mg 1 time / as maintenance therapy for 8 weeks. Tablets should be swallowed whole, not liquid, squeezed with a small amount of liquid. Usually the duration of treatment is determined by the doctor.
In accordance with the recommendations of the WHO on the use of antibiotics, the duration of treatment for streptococcal infections should be at least 10 days.
When taking Wilprafen, it should be borne in mind that if one dose is missed, the dose of the drug should be taken immediately. However, if it's time to take the next dose, you should not take the missed dose, you need to return to the usual treatment regimen. Do not take twice the dose.
A break in treatment or premature discontinuation of the drug reduces the likelihood of treatment success.